Meet Our Team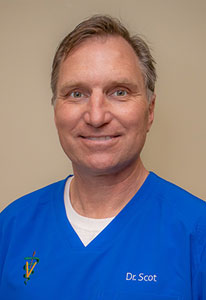 Dr. Scot Hodkiewicz
Dr. Scot earned his veterinary degree from the University of Wisconsin-Madison in 1993, finishing top in his class. His interests include general and orthopedic surgery, endoscopy and ultrasound. Dr. Scot can perform many of the advanced procedures which are typically done only at referral hospitals. He says, "There was such a need for these more advanced surgeries and diagnostics that we needed to do them 'in-house'. This allows me to charge substantially less than most referral hospitals for the same procedure and better monitor the patients during recovery. There is also a better continuation of care when the procedure is done at our hospital by one of our own doctors. Veterinary medicine changes quickly and we just need to keep pushing forward. We are dedicated to keeping on the cutting edge with patient care. This is what our patients deserve."

Dr. Scot is married to Dr. Mona and they have three children: Alexa, Victoria and Chase. He is also the author of an award-winning book titled "Getting to Heaven By Going Through Hell", recounting his family's physical, emotional and spiritual recovery following a nearly fatal head-on collision with a drunk driver. He has a passion for wildlife and volunteers his skills and time to Fellow Mortals Wildlife Hospital and Lakeland Animal Shelter. He states, "I got a second chance at life. God gave me certain gifts including veterinary medicine and I owe it to Him to use that gift to the best of my ability."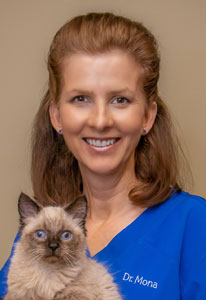 Dr. Mona Hodkiewicz
Dr. Mona Hodkiewicz graduated from UW-Madison with a bachelor's degree in Animal Science. She also attended the UW-Madison School of Veterinary Medicine to attain her Doctor of Veterinary Medicine degree. While attending veterinary school she met her husband, Dr. Scot Hodkiewicz, and they went on together to work in a mixed animal practice in Wisconsin Dells. They dreamed of opening their own veterinary practice, and the opportunity to purchase Lake Geneva Animal Hospital arose in 1998. At that time the focus became strictly small animal practice. As the practice continues to grow, Dr. Mona enjoys day to day preventative health care, internal medicine, and ophthalmology. Practice management has also been an important part of her professional career. She enjoys helping out our local animal shelter and collecting miniature horses on the family hobby farm. She and Dr. Scot have three animal-loving children along with a houseful of pets.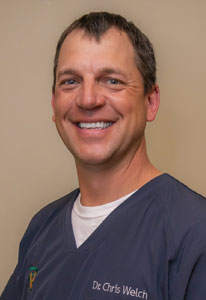 Dr. Chris Welch
Dr. Welch attended Knox College for undergraduate studies from 1993-1997 and the University of Illinois College of Veterinary Medicine from 1998-2002. His professional interests include soft tissue surgery, oncology, stem cell therapy, immunotherapy, and internal medicine. He has taken a particular interest in the field of oncology, focusing on treatment options that suit both the clients and their pet's best interests. He can now safely offer many services that were once only available at larger referral hospitals. He has also taken a special interest in two specific diseases that are endemic to southeastern Wisconsin, blastomycosis and Lyme Disease. In his free time, Dr. Welch enjoys many outdoor activities including fishing, camping, golfing and playing basketball. Dr. Welch has four children: Ashlyn, Addison, Alec, and Aubrie. There are also four dogs and a cat that live under the Welch roof. Dr. Welch is married to his veterinary classmate Dr. Kelly Roy, who practices at our Geneva Lakes Animal Hospital in Walworth.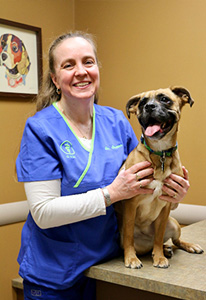 Dr. Kay Stratton
Dr. Kay Stratton is a 1997 graduate of the College of Veterinary Medicine at the University of Illinois, Urbana-Champaign. She completed her B.S. degree in Agricultural Science in 1993 at the University of Illinois, Urbana-Champaign and was awarded the highest university honor of Bronze Tablet. She has practiced in Southern Wisconsin since 1999 and joined the staff of Lake Geneva Animal Hospital in 2006.

Dr. Stratton believes that strong client communication ensures the best care for her patients. Her primary interests are internal medicine, endocrinology, dentistry, and dermatology, with a special interest in allergic skin disease. She sees many of our patients with moderate to severe dental disease and spends much of her surgical time in the dental suite, utilizing our digital dental x-ray machine to help diagnose periodontal disease and other dental health concerns.

She enjoys sharing her enthusiasm for veterinary medicine with the next generation of veterinarians and is always willing to spend time visiting local classrooms as well as mentor current and prospective veterinary students. She gives back to our community by being a regular blood donor, a member of the National Marrow Donor Program, a Locks of Love participant and an advocate for JDRF, the Juvenile Diabetes Research Foundation.

Away from the office, Dr. Stratton loves spending quality time with her husband, their two children and their mixed-breed pups, Leia and Molly. Her hobbies include photography, gardening, reading, cycling and swimming. When the weather is nice, you will often see her in the lake or on the road training for her next triathlon!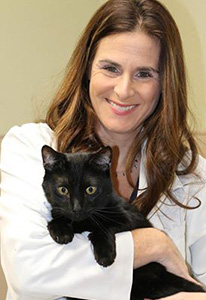 Dr. Kelly Roy
Dr. Kelly Roy graduated from the University of Illinois in 2002 with her husband Dr. Chris Welch. They moved to southeastern Wisconsin and have been practicing around the area since that time. She joined the team at Lake Geneva Animal Hospital and Geneva Lakes Animal Hospital in 2008. Her primary interests include preventative medicine, internal medicine, behavior, and rehabilitation. She took the IVAS (International Veterinary Acupuncture Society) course to learn veterinary acupuncture in 2007. She currently uses acupuncture techniques for medical problems such as pain management and for many chronic diseases. Incorporating acupuncture into the treatment of challenging conditions such as cystitis, incontinence, recurrent urolithiasis, allergies, and neurological diseases such as degenerative myelopathy has led to increased quality of life for her patients. She enjoys the challenges that veterinary medicine provides and the interactions with both clients and pets.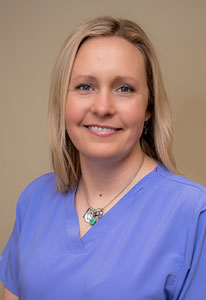 Dr. Terri Schreiner
Dr. Terri Schreiner is originally from Lake Geneva, Wisconsin. She received her DVM from the University of Wisconsin-Madison in 2005. Dr. Schreiner completed two year-long internships after veterinary school, the first in equine medicine and surgery and a second in veterinary ophthalmology. A member of AVMA, Dr. Schreiner has been published in Veterinary Dermatology. Dr. Schreiner's special areas of interest include ophthalmology, internal medicine, dentistry, and integrative medicine. When not working, she enjoys spending time with her family, metalsmithing, and spoiling the family Labrador Retrievers.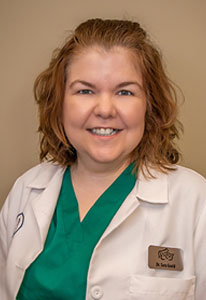 Dr. Sara Gould
Dr. Sara Gould is a Wisconsin native, growing up the Sussex/Brookfield areas. As a young girl she and her family spent two years living in England. She is a graduate of Ripon College and the University of Wisconsin-Madison School of Veterinary Medicine. After graduating with her veterinary degree, Dr. Gould completed a rigorous internship in emergency medicine at Central Hospital for Veterinary Medicine in New Haven, Connecticut. Dr. Gould then worked in pimary care practice and has extensive experience in emergency and critical care clinics. She enjoys the unique challenges that both primary care and emergency medicine provide. In her spare time, she chases around her children with Starbucks in hand. She is also enjoys cheering on the Milwaukee Brewers, crocheting, figure skating, and watching Disney movies.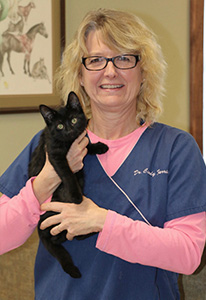 Dr. Cindy Farris
Dr. Cindy Farris is a 1993 graduate of the University of Wisconsin-Madison School of Veterinary Medicine. She earned her B.S. degree in Zoology at California Polytechnic University in Pomona. She has practiced in southeastern Wisconsin since graduating in 1993, and joined the staff at Lake Geneva Animal Hospital in 2009. Dr. Farris has always had an interest in cats. In fact, this is what landed her first job before veterinary school at a boarding facility! Her special interests (beside all things feline) include cardiology, dermatology, surgery, and behavior. She has been a member of the American Asociation of Feline Practitioners for over 15 years. Although she loves her kitties, her days here would not be complete without seeing her caninie patients as well. In her free time, she enjoys the outdoors. Hiking and backpacking with llamas and her husband in the Wyoming mountains are her favorites. Hanging outside and reading with her cat, Doug, are good too!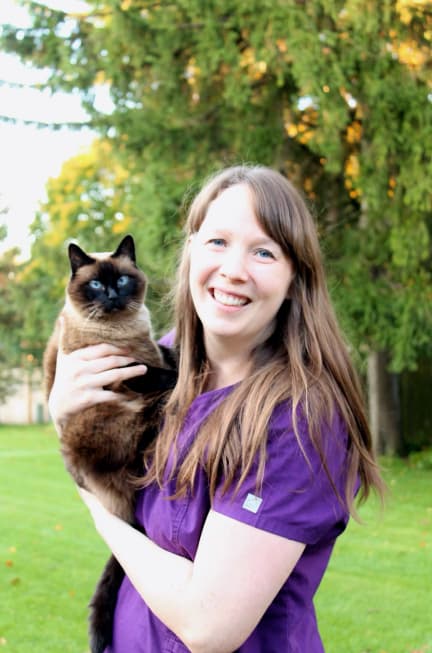 Dr. Brenda Arens
Dr. Brenda Arens Reed grew up on a farm in rural northeast Nebraska where her love for animals was apparent from a very young age. She received her bachelor's degree in biology from Loras College in Dubuque, Iowa in 2006 and graduated from Iowa State University College of Veterinary Medicine in 2010. Special areas of interest for Dr. Brenda include surgery, dentistry, and ultrasound.

In her spare time, Dr. Brenda enjoys spending time with her husband, two kids, and Siamese cat Basil. She loves the outdoors so you can find her enjoying Wisconsin's lakes and forests by kayaking, swimming, and hiking. She also loves music and took many years of piano lessons and is still an active choir member.

Dr. Brenda looks forward to meeting you and your beloved pet. She aims to educate and work with owners so your pet can live the happiest and healthiest life possible.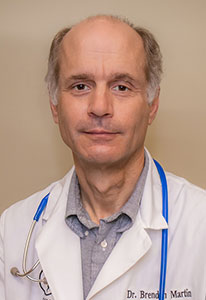 Dr. Brendan Martin
Bio coming soon! Dr. Alexa Hodkiewicz
Bio coming soon! Dr. Gretchen Paderta
Bio coming soon!