Customer Testimonials
Diane Heimsoth
Just wanted to share our excellent experiences with LGAH! Lucas had Cruciate surgery on his right back leg 3 years ago and did GREAT! This past year, he had it on his left leg and he's like a puppy again (he's 9). He has his sparkle back in his eyes and feels amazing and is once again happy every day (as are we). Thank you!

Art and Brenda Waldoch
Sending a big thank you for taking good care of our dog, Kolty, last week when she had a surgical procedure done removing and cleaning teeth. I received a nice call the following week from your clinic checking on Kolty's recovery from the procedure. Thank you for calling to check on her, she is doing great. Again thank you for your concern and compassion for all animals always.
Gary and Gisela Witt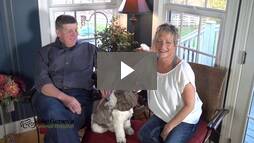 Amy Amann